Not very long ago I saw the film Goodbye Christopher Robin. The film gives a rare glimpse into the relationship between beloved children's author A. A. Milne and his son Christopher Robin, whose toys inspired the magical world of Winnie the Pooh.
The film explores the enchanting tales that brought hope and comfort to England after the First World War but for me it did something else. It immediately took me back to when I was very young. I was four or five when my mother read A.A. Milne poems to me every night. I loved the rhyme, the patterned language, the look of the print on the pages, and oh, the idea that I too might see the changing of guard at Buckingham Palace. ('Christopher Robin went down with Alice.') I should mention that I lived in country Victoria, Australia but I was sure I would get there one day!
Children who are immersed in a rich language environment through hearing stories and talking about them grow as readers and thinkers. Consider the language children meet in a story; words they can absorb and become their own; expressions that range from the archaic to the contemporary; patterns that ring in their ears and seduce them into joining in. Through listening children come to understand what to expect of a story or rhyme's structural patterns and conventions. It enables them to understand words, ideas, customs and values that lie outside their reading ability and experiences. Listening to stories told or read aloud gives children, whether they be very young or not, their future strength as readers and writers.
As Jim Trelease says in The Read-Aloud Handbook, as little as fifteen minutes a day spent reading aloud to children can have a significant effect on their becoming lifelong readers.
In Booktalk: Occasional Writing on Literature and Children Aidan Chambers states that the art of reading lies in talking about what you have read. Children are usually keen to talk about what they have enjoyed, they like to explore those aspects of a story implicit in the text, and they enjoy pondering the connections they have made between what they have read or heard and their own lives and the lives lived in other stories. Stories become memorable if children are encouraged to pose their own questions about them and to search for answers. Unless children are given opportunities to say, in their own way, what they think, stories in print can mean very little to them. The great challenge for us lies in creating environments where genuine sharing can occur.
To begin with we need to choose books to share that will provide an experience rich and varied enough that all the children will find something they can and want to share with others. And we should make the books we read aloud available for independent browsing and reading, along with related books and media.
What books should I read aloud?
This is a difficult question to answer because not everyone likes the same thing however what follows is a very short list of books that many children have enjoyed. Some of the suggested books have been around for a long time and others have been published recently.
For the very young
We're Going on a Bear Hunt by Michael Rosen, illustrated by Helen Oxenbury
Come along on a bear hunt in this award-winning classic. For more than twenty-five years readers have been swishy swashing and splash sploshing through this favorite.
Join in the fun with Michael Rosen's recitation on Youtube. https://www.youtube.com/watch?v=kL36gMrHJaI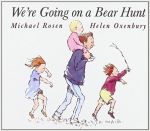 Brown Bear, Brown Bear, What Do You See? by Bill Martin Jr., illustrated by Eric Carle
The gently rhyming text and bold colored collages have a big happy frog, a plump purple cat, a handsome blue horse, and a soft yellow duck parading across the pages. The text patterns are repeated over and over again so that young children can chime in with the reader, easily predicting the next rhyme. They will enjoy Polar Bear, Polar Bear, What Do You See? too.
A Dark, Dark Tale by Ruth Brown
"Once upon a time there was a dark, dark moor. On the moor there was a dark, dark wood. In the wood there was a dark, dark house." Young listeners are engrossed as the journey continues up the dark stairway through hidden passages, around sharp corners and behind windblown curtains. This spooky read-aloud pretends to be scarier than it is and kids just love the punch line. Actually, they enjoy the whole book and love predicting the ending. This book is a must!
For those in the early years
Isabella's Garden by Glenda Millard, illustrated by Rebecca Cool This lyrical, uplifting picture book stunningly illustrated in luminous colors is a must-have book to welcome spring. In Isabella's garden, amazing things come from the tiniest seeds as they bloom and flourish and make way for a whole new season of growth. Echoing "The House That Jack Built" this award-winning story is bursting with life.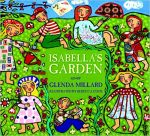 Alexander and the Terrible, Horrible, No Good, Very Bad Day by Judith Viorst and Ray Cruz
This book is a winner with everyone! From the moment Alexander wakes up with gum in his hair, things just do not go his way. At breakfast, Alexander's brothers Nick and Anthony reach into their cereal boxes and pull out amazing prizes, while all Alexander ends up with is . . . cereal. The situation does not get any better at school, in fact it gets worse. No wonder Alexander wants to move to Australia! An online adaptation, read by Judith Viorst, is available See: www.kennedy-center.org/multimedia/.../alexander.html The children will enjoy hearing Alexander, Who Used to be Rich Last Sunday too.
This is Our House by Michael Rosen, illustrated by Bob Graham
George says the cardboard house is his and his alone. It isn't for girls, small people, twins, people with glasses, or people who like tunnels. But when he leaves the cardboard house for a little while, he comes back to find that there are some people inside who don't think it is for people who have red hair - like George. George makes a big discovery – that letting everyone into his playhouse is a lot more fun than keeping them out.
For those in the middle and upper elementary years
Mr. Benjamin's Suitcase of Secrets written and illustrated by Pei-Yu Chang
Mr. Benjamin is a philosopher with extraordinary ideas. But when his country begins punishing people for being different, he must escape. Over hills and through valleys he trudges with a heavy suitcase. What could he be carrying? This beautifully illustrated and compelling story is about the importance of personal freedom and the distances we go to protect them—based on the true story of Walter Benjamin.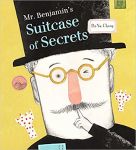 House Held Up by Trees by Ted Kooser, illustrated by Jon Klassen
When the house was new, not a single tree, shoot, or seedling remained in its perfect lawn. The children who lived there followed the scent of wild trees to neighboring lots where there were secret places to play. When the children grew up and moved away, their father, alone in the house, continued his battle against blowing seeds, plucking up sprouting trees, Until, one day the father, too, moved away and then, as the empty house began to decline, the seeds, shoots, and trees approach once more. This wistful, lyrical story evokes time's inexorable passage and the awe-inspiring power of nature to lift us up. Pulitzer Prize winning poet Ted Kooser's House Held Up by Trees is imbued with a haunting beauty.
Marshall Armstrong is New to Our School written and illustrated by David Macintosh
Brilliant and witty, Marshall Armstrong definitely stands out from the crowd; but will he find it easy to make friends? Marshall doesn't fit in but it doesn't take long for Marshall to prove that you don't have to follow the crowd to be the most popular kid in the playground. As one child said, "The story is really, really good and fantastic because it's strange and weird."
Aidan Chamber's Booktalk: Occasional Writing on Literature and Children 1985 Bodley Head Children's Books.
Jim Trelease The Read-Aloud Handbook 2013 Penguin Books. Seventh Edition
Now, off to the classroom. Denise