Involving children in letter explorations helps them learn about the alphabetic system. Such explorations should occur alongside the regular reading and writing activities of the classroom.
Letter explorations assist children in:
understanding the concept of letters
learning letter names of the twenty-six letters in alphabetical order
identifying upper and lowercase letters
understanding that letter names are different than sounds
knowing that letters occur in initial, final and medial positions in words
learning that most letters in English represent more than one sound, and that this sound is influenced by the surrounding letters and the letter's position in the word
understanding the usefulness of alphabetical order in organising and locating information, and
hearing the terms consonant and vowel.
What can Letter Explorations look like?
Let me share with you a particular situation from the classroom.
This is what happened when a teacher I am working with launched into a Letter Explorations routine with his whole class of year 2/3 students!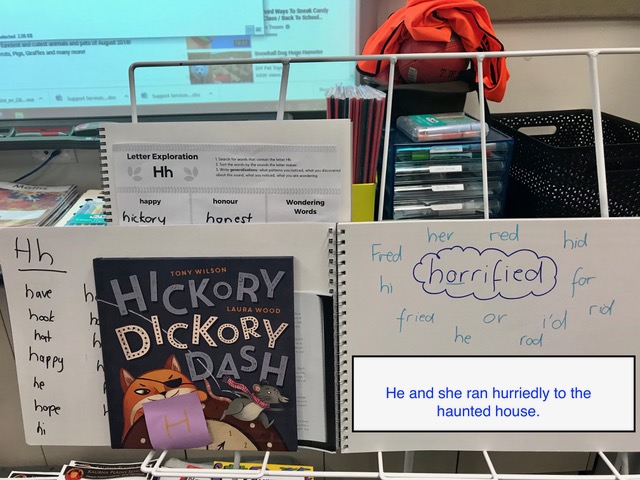 1. Tom introduced letter explorations when he discovered that his students were misunderstanding that letter names are different than sounds. He is working through the alphabet, including the digraphs ch, ph, sh & th, one each day of the week.
2. To link Letter Explorations to authentic reading and writing Tom created a box of books, A-Z, made up of picture books from his classroom and school library. Each book was selected because of its distinctive use of one letter of the alphabet in the title. (See below for a list of books I currently have in my Alphabet Collection for Year 2/3 students).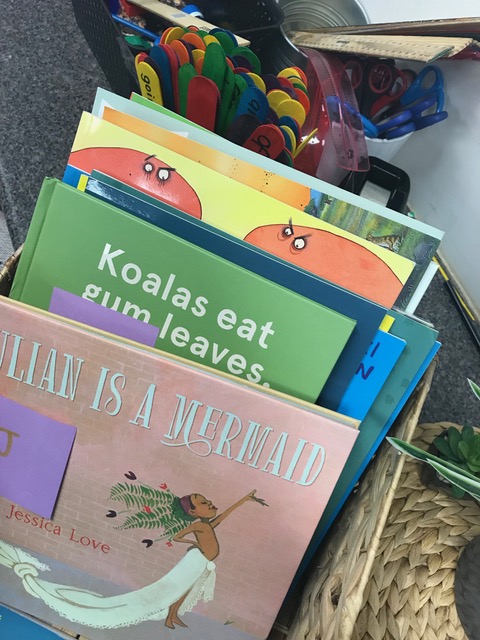 3. By day 2, students already understand there is a routine. They anticipate the exploration and they are already on the hunt!
4. Tom begins each Letter Exploration session with the Read Aloud from the Alphabet Collection basket of books.
5. Students listen for words that begin with the exploration letter, but most importantly, enjoy the engaging way in which Tom brings every story or text to life! More than letter explorations are at play here.
All manner of literary techniques, rhyme, rhythm, seem to be quietly (and sometimes not so quietly) noticed. Wonderings are held in bursting minds and there is always a 'joining in' point for every student, where they realise a pattern, begin to make a prediction, melt into the feelings of the character or anticipate a repeating word or phrase.
If we ever thought that a singular event was happening when we read to students, we'd be very mistaken. When students are caught by reading, they are propelled into a world of discovery.
6. Tom takes charge of listing the initial words that come flooding from his students. He lists these in an A3 Visual Arts Diary, anchoring the list of words for further use and as a reference tool. Students launch into a letter hunt from their brains, from books in their Book Box and from dictionaries. And oh, they find such interest in what they are doing, and oh, they find such varied words. This is a short time span. They collect, Tom records, then they move on.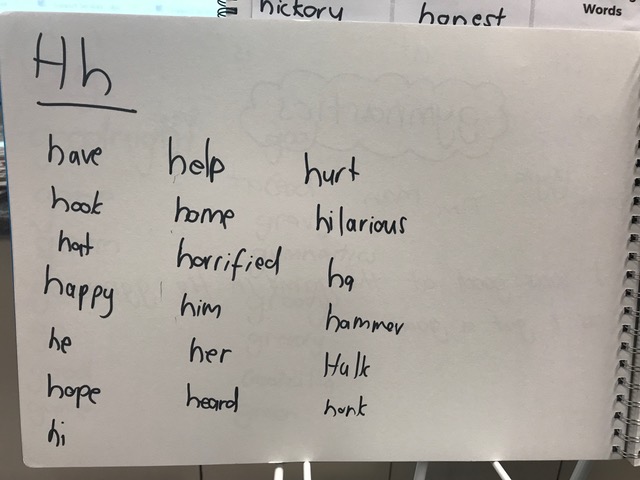 7. Tom uses the A3 enlarged Letter Exploration chart to have students begin to think about the sound the letter makes in each of the words they have collected. They begin to see patterns, noticing the most common sound. A few wondering words appear, where confusions are clarified or dictionaries are collected to check. Once again, this is short, sharp and shiny! They sort, then move on.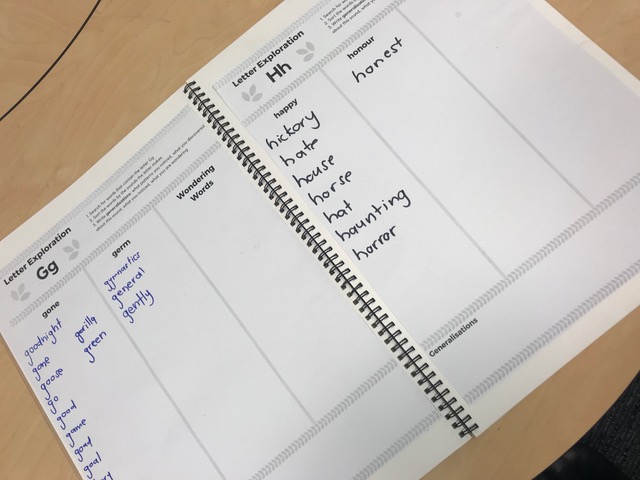 8. The class selects the longest word they have discovered, and use this as their 'Word of the Day'. Using the letters of the word, they create as many smaller words as they can. They work on white boards, they work quickly, they work independently, they check with word walls, dictionaries and each other. Students then call out their words as Tom records them on the page next to their word list.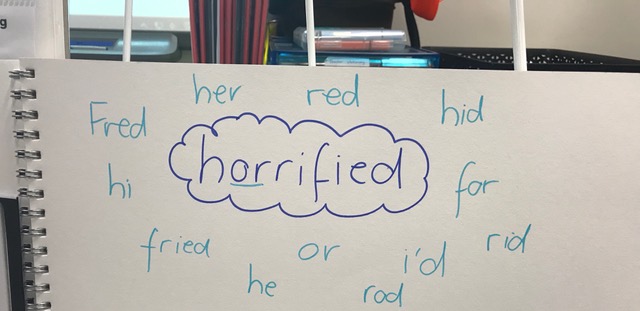 Word Work, alive and thriving in 15 minutes! Students have lived letter explorations by being active thinkers, readers and writers. And it spills across the day; awareness of letters and their sounds, awareness of letter shapes as they are writing, awareness of words they have encountered they can pop into their writing, awareness of words they have come across before, as they are reading.
Letter Explorations engage students in making sense of the purpose of the alphabetic principle and allowing them to see how this principle is an essential understanding that lives and grows in their reading/writing life.
Happy Letter Explorations to you all.
Sharon
List of books in my current Alphabet Collection basket!
There is no 'set' collection. Use the books in your classroom and school library. Students can help you make the collection too. Looking through my library at home, I was able to pull this collection together in a matter of minutes. The value of a collection is in being ready every day, having books that students can readily revisit and introducing students to the wide range of books at their fingertips.
Animalia, Graeme Base
Bertie and the Bear, Pamela Allen
Conga Dance, Amanda Tarlau & Jane Chapman
Dinosaurs on the Loose! Amanda Tarlau &Mark Osberg
An Egg is Quiet, Dianna Hutts Aston & Sylvia Long
Free Fall, David Wiesner
Goodness Gracious! Phil Cummings & Craig Smith
Hairy Maclary and Zackary Quack, Lynley Dodd
I'm Not Scared, Dan Crisp & Lee Wildish
Jeremy, Chris Faille & Danny Snell
Kites, David Pelham
Lost for Words, Natalie Russell
Monkey and Me, Emily Gravett
'Not me,' said the Monkey, Colin West
Out in the Bush, Yvonne Morrison & David Stanley
Pig the Pug, Aaron Blabey
The Very Quiet Cricket, Eric Carle
Rumplestiltskin, Paul Zelinsky
Suddenly!, Colin McNaughton
Twinkle, Twinkle, Squiglet Pig, Joyce Dunbar & Tim Hopgood
Under the Bed The Bedtime Book, Michael Rosen & Quentin Blake
Verdi, Janelle Cannon
Where the Wild Things Are, Maurice Sendak
Fox in Socks, Dr Seuss
Are We There Yet? Alison Lester
Midnight at the Zoo, Faye Hanson